Transtrade Consultoria
Transtrade Overseas, Ltd.
We are committed to add value to our clients' business by using all available resources and the expertise of the most capable professionals, thus offering high quality customized services and solutions, innovative and creative, in order to achieve the balance between the success and interests of the clients and the satisfaction of all members of the Group.
Our main targets are:
Infrastructure - coordination of construction projects and development of opportunities in the Brazilian offshore crude oil industry.
Advisory Services - on crude oil, by-products and other commodities deals worldwide; financial and business consulting services to industries and other companies.
We have currently in force several working agreements with business associates, some of which are outlined below.
ZENTECH, INC., a Houston based company, represented in Brazil by TRANSTRADE, is a leading project engineering company, which adds to TRANSTRADE the capability of sourcing technology to shipbuilding companies, and to provide naval architecture, design and marine engineering, primarily for the offshore oil and gas industry.
TRANSTRADE and Zentech have formed in October 2011 Zentech do Brasil Ltda., a partnership between the companies with the aim of taking advantage of the huge potential of the Brazilian offshore industry.
In January 2015 Zentech do Brasil has been awarded a contract to perform a comprehensive inspection and evaluation of the hull steel for the Naval Aircraft Carrier Sao Paulo, as part of the Brazilian Navy's upgrade of this flagship vessel.
Zentech will perform the work using its patented ZAIMS™ (Zentech's Asset Integrity Management Solution™) to assist the Brazilian Navy in assessing the sea-worthiness of the vessel's hull.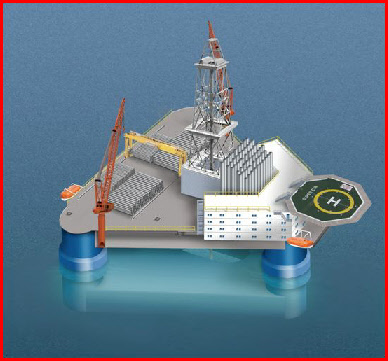 Zentech's Super EVA semi-submersible design
NAFTCOR LTD., an oil trader headquartered in Greece, is represented in South America by TRANSTRADE.
TRANSTRADE currently handles mostly Naftcor's deals with Petrobras as well as with other international oil companies.
FINANCIAL AND BUSINESS CONSULTING SERVICES
TRANSTRADE developed a structure to provide, directly or through affiliated companies, a wide range of services, such as:
Auditing and Accounting Services;

Financial reorganization - treasury, credit, accounting, control and fiscal;

Improvement of capital structure via sale and leaseback of fixed assets, sourcing of medium and long term credit lines and other financial, credit and legal instruments;
Risk mitigation - financial, credit, commercial and country risks assessment;

Implementation of ERP/CRM/BI systems;

Tax, Logistic and Strategic Planning;

Structuring and development of environmental management projects - water resources, energy and environmental impacts; Industrial plant relocation combined with real estate projects; Corporate legal matters on areas such as consumer relations, corporate, energy, family & succession, international, labor, partnership reorganization, public bid, real estate, regulatory, tax & trade law, litigation; Merge & Acquisitions - valuation, audit, due diligence.